Tröjan kommer tillbaka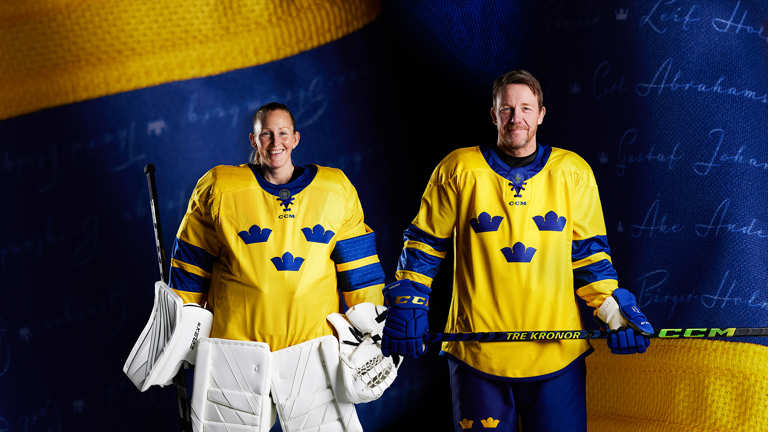 Svenska Ishockeyförbundet fyller 100 år 2022 och tillsammans med CCM kan vi nu presentera en landslagströja i retrostil. Under devisen "kronorna kommer tillbaka" presenteras idag tröjan i sin helhet.
Tillsammans med CCM och Svenska Ishockeyförbundets partners kan vi idag presentera en unik retrotröja som tagits fram med anledning av att hylla Svenska Ishockeyförbundets 100 år. Utöver de retroinspirerade kronorna på bröstet på tröjan finns även alla invalda hockeyprofiler i svensk ishockeys Hockey Hall of Fame representerade på ärmarna.
Tre Kronor kommer även att bära retrotröjan i jubileumsmatchen mot Tjeckien den 5 maj i Avicii Arena.
– Vårt 100-årsjubileum kommer att firas på flera sätt under året och att genom tröjan kunna lyfta vår historia under Beijer Hockey Games känns väldigt bra. Tillsammans med vår engagerade partner CCM har vi skapat något unikt som vi också hoppas att de svenska fansen ska gilla, säger Christer Plars, kommersiell chef för Svenska Ishockeyförbundet.
Retrotröjan har under veckan skickats ut till alla invalda hockeyprofiler i svensk ishockeys Hockey Hall of Fame. Kim Martin Hasson och Charles Berglund är några av de senaste invalda hockeyprofilerna och de kommer att hyllas under Beijer Hockey Games i Avicii Arena den 5–8 maj. De är också ansiktena utåt för tröjan som lanseras idag.
– Idag kan vi med stor stolthet presentera en retrotröja med rika detaljer som hyllar svensk ishockeyhistoria, och en extra rolig detalj är att vi har valt att använda CCM:s logga från år 1922, säger Lars Blomqvist, sports marketing manager på CCM Hockey.
Idag släpps retrotröjan till försäljning på Svenska Ishockeyförbundets officiella supportershop, www.trekronorshop.se och hos XXL på Hamngatan i Stockholm.
Klicka här för att se alla invalda profiler i svensk ishockeys Hockey Hall of Fame